Company
Space For Better Life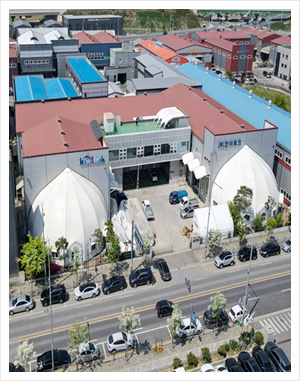 Welcome to Hanatech.
HANA Tech Co., Ltd. has unique technology in building membrane structures such as gyms, exhibition halls, and international conference halls. We provide All process service with expertise such as design, structural calculation, construction. We export to Japan, Europe, Asia, U.S. Army in Korea and the UN as well as Korea.
Since its inception in 2003, we has constructed 120 projects and Suncheon Palma Tennis Court (53m wide x 127m, '2017) is the largest Fabric Structure Building in Korea.
We have 15 patents (6 design registrations) related with Safe construction, Maintenance of beautiful appearance. We also have New Product Certification (NEP) and Excellent Procurement Certification which enables Non-Bid Contract from Government Procurement. Overseas public institutions and government procurement is also being proceeded by G-PASS certifications which we got from Korean Government. We continue R&D investments in new technologies, new materials and new designs
In 2021, we awarded as "Sports Leading Company" by the Ministry of Culture, Sports and Tourism for Excellent Sports Facility Manufacturer, which help our progress in Sports Business in South Korea.
In response to the Government's Eco-friendly Carbon Neutralization Policy, we has continued to research by replacing Construction materials such as concrete and steel with Wood.
We, Hanatech family, will do our best to satisfy our customers by making a new comfortable and safe innovative space.
Thank you.
Jang Sung Joon /CEO